Welcome to Celebrations Party Spot
Take a video tour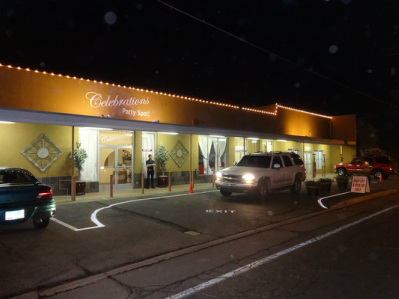 Special drive through drop off
area at front entrance
Large parking lot at south end of our sidewalk plus extra parking in the back.

---
Packages and pricing are listed under the Ballroom, Onyx Room and Chapel tabs. A downloadable price sheet is also available under the Ballroom and Onyx Room tabs. Please don't hesitate to contact us via email or phone if you have any questions. We look forward to hearing from you.

2018 Open House Dates
Open house is from 3pm - 7pm every 2nd Wednesday
April 11, 2018
May 9, 2018
June 13, 2018
July 11, 2018
August 8, 2018
September 12, 2018
October 10, 2018
November 14, 2018
December 12, 2018
No appointment necessary to attend our open house
​or call 520-903-2233 for a private tour



For more information
Call
520-903-2233


Welcome to Celebrations Party Spot!

Our Mission
To offer assistance by providing a beautiful, warm, and inviting venue for all of life's special events. A hall that offers options for clients on a budget desiring to create a resort quality event at an affordable price. To make sure your dream vision becomes a cherished reality by assisting you from start to finish in making choices that are economical without compromising quality. Creating the look of marvel and wonder on your face as you plan and experience your personalized event.
Established in 2007

Ballroom seats up to 200 guests
Here at Celebrations Party Spot you can rent the basic hall and bring in your own food and drink, have it catered or order from us. If you choose to have your event here I can personally guarantee that your event preparations and set up will be overseen by myself Deanie. We are a locally owned family operated business with less than 5 employees. What this means to you is that you will get our undivided attention to detail and personal touch. We are here to assist you in every way.

Wedding Chapel
Seats up to 90 guests
Ballroom
seats up to 200 guests
Onyx room - small banquet room
can seat up to 75 guests
Cantina with use of ice chests
(Bartender when alcohol on premises)
Buffet room
with 4 - 6 foot tables
Warming & prep kitchen,
Free use of our chaffing dishes
All of our packages include an attendant and security during your event.

In brief, you should know the following about us: Celebrations Party Spot was established in 2007 and has been responsible for providing a beautiful and affordable venue along with decorations, cakes, flowers and event planning. Our specialty is in the area of customer service and satisfaction. Our regular customers particularly value the personal attention, clean environment and tasteful decor of the venue.

Over the past 35 years we have been in the wedding and party industry providing cakes, flowers, decorations, catering and more. During this time we learned there was a great need in Tucson to have a venue that would be affordable and let you plan your event on your own terms without a bunch of hidden extras. We also felt that it would be convenient to be able to find everything in one location.

That is why we offer the following services or referrals for.........................................................

Catering, Cakes, Flowers, Decorations & Referrals to other professionals in the business.