On behalf of Celebrations Party Spot, I would like to personally thank you for your business. We appreciate the trust you place in us and strive to achieve excellence for you and all of our customers. If like many of our loyal customers, you had a pleasant experience with us, please share it with others; leave us a review on this page and if time permits on Google.

If by an unfortunate circumstances you had a bad experience with us, I would like you to call me directly or send me an email so that we can discuss the situation. I'm sorry and I would like the chance to repair our relationship with you. Please let us know if we can enhance our service to you in any way.

We appreciate your time and look forward to working with you and your family and friends in the future. Deanie Burris


SP -04/07/2016
I recently celebrated a major birthday at Celebrations Party Spot and we had a very good time! It was the only big party I have ever organized, and it meant a great deal that Deanie was without exception an available, congenial and competent adviser, willing and happy to answer my many questions. She did a lovely job with decorations and preparations, and the dance floor may be the best in Tucson: it certainly got wildly enthusiastic use that night, which was part of what made the party a huge success! Check out the website for visuals, and I highly recommend working with Deanie and her staff.

Andrea M. - 1/17/2016 - We had a family reunion/ 85th birthday party here! I booked this place via Internet pictures we were not able to see it because we live out of town. The place doesn't look to great from the outside but inside is awesome! The set up is great separate bar area off the main party area along with a separate area for food. Nice size dance floor! The one thing I really LOVE about this place was the staff and how accommodating they were! Our family owned several ranches in AZ and wanted a western theme. At the time Deanie did not have anything western. When we walked To set up for our party the decor was more than we ever imagined! The staff took our cattle brand and used it on wood planks set up on each table (approx 21 tables)! And we got to keep them! Talk about customer service!! The staff was nice and provided us with exceptional service going above and beyond!! I highly recommend this place to anyone!

PattyAlcala 09/04/15 We got married at Celebrations recently and on short notice, booking the Onyx room with a small amount of guests. Although it was a bit hot, we were extremely happy with the venue and everyone had a great time. The service in the chapel was very nice. It's pretty cool that we were able to do everything in one place. Everyone was quite impressed at how nicely decorated the venue was for such short notice. Also, Deannie made a beautiful and delicious cake that was amazing!! Thank you for making our wedding memorable!

Lor Conner - 6/26/15 Deanie, Our son and daughter-in-law's wedding turned out beautiful. Everyone was so impressed with the decorations, and we were so happy to have people there to help with anything we needed. It was more than we ever expected! Many of the guests were amazed, from the chapel to the reception room (Onyx room). I have already told others to check into Celebration Party Spot if they are looking for a venue to celebrate and will continue to tell others. Thank you so much for making this a memorble event (and we did most of the communication by email and phone since the bride and groom came from California to get married here!!) I wouldn't hesitate to use your services again!! Thank you, Thank you. :)
Kirwan Flannery 04/29/2013
14:08 We attended a party at Celebrations Party Spot recently. Wow, what a nice place! We were amazed at the beautiful decorations as we entered the facility. The place was clean and the layout was perfect to accommodate nearly 200 guests. I liked the fact that the buffet and the bar were in separate rooms. The staff was friendly and very helpful throughout the evening. They even loaned us carts to help with all of the stuff we brought in and out. We will recommend this place to all of our friends for future events.

Henrietta & Fritz 04/29/2013
14:09 hOur wedding was truly a wonderful experience for us , our family and friends. The facility was great and the decorations were absolutely beautiful. Everything was so beautifully coordinated and no detail was left out. We had so many positive comments from our guest about what a great place for a wedding or any celebration. We would proudly recommend your facility to anyone having a party celebration of any kind , large or small. Thank you so much for making our wedding such a memorable experience. Henrietta & Fritz
Toni 04/29/2013
14:11 hI recently attended an event at Celebrations and I thought the facility was very well orchestrated and very clean. The floors are beautiful and the lighting over the dance floor is gorgeous. The decorations that were provided by the hall were clean and they set it up wonderfully. I really enjoyed the layout of the facility. I will be recommending this hall to my friends and hope to use it for myself in the future.
Gloria Gomez04/29/2013
14:11 hWe had our Wedding on March 24. Everything was completly Amazing. All our guests couldnt stop talking about how beautiful everything looked and the staff was Very Helpful and Great to work with. I would Absolutely recommend Celebrations to All my friends and Family!!!! I never even knew there was a hall here, This is For Sure a hidden JEM!!!!!!! Thank you
Theresa Brackett 04/29/2013
15:03 hWe just had my daughters Quinceanera Friday. The decorations were beautiful, the chapel was perfect for the ceremony, and I received so many comments on how nice everything was. My family did the cake and all the food so this helped save a lot of money. The set up of everything was just how we needed it to be. Deanie has been in this business for some time now and really knows how to throw a party. Once you visit the facilities and talk with her you'll know this is where you want to have your event. My family is already planning another event at Celebrations. Thank you so much. Deanie
Jessica Piccirillo 05/01/2013
17:59 hCelebrations Party Spot was so incredible that I would literally have everyone use them.
They gave me a super fast detailed quote for my wedding on such a short notice. They were very nice and professional about making payments and plans.
They helped me and my family out save time and took care of all the decor and setting up for food and drinks, I was so happy to have done my wedding there!
Thanks Deanie for everything you have done for me!
Carl & Linda Witte 05/22/2013
20:34 hOn April 5 2013 we had double wedding with Henrietta & Fritz Hennings.Everything went like clock work.Every one there commented how nice the place was and how nice it was decorated.We highly recommend this facility.
Linda Hampton Witte 05/24/2013
10:27 hWhen two senior couples decided to have a double wedding,none of knew how or what we needed to do.We heard about Celebrations Party Spot.When we walked in and told Deanie we wanted help,she took over and made every thing go beautifully.I highly recommend this facility for any type of celebration you are planning.Deanie is an Angel and will work with you on every detail.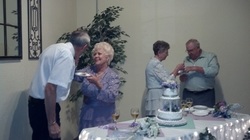 ---
Catherine Teta 05/29/2013
15:46 hMy husband and I had our wedding here in June of 2011. We were so impressed with the attention to detail and how much Deanie helped us make sure everything was perfect. She went above and beyond and we are so grateful for her generosity. All of our family and friends loved it and we had a wonderful wedding and reception. Thank you!
Ana Rojas 10/23/2013
09:21 hI am so glad that I choose celebrations to have my daughters baby shower, Deanie was so helpful and such a joy to work with, i wish I would have known of celebrations 6 years ago for my daughters quince. Over all it was the best experience ever.
Darcie Revay 05/02/2014
12:01 hWe held our end of the year Band banquet at Celebration Party Spot. I'm so happy I found this place!! The venue is beautiful, decorations are personalized and Deanie is extremely helpful. Parents and students were very happy with everything! I would recommend Celebration Party Spot for any event big or small. Thank you for a wonderful evening the students will always remember! You guys are AMAZING!!!